Importance Of Using Google Ads
Today's generation is all about modern technology and every chore is directly or indirectly related to a technology-driven act. Everything is at your fingertips and one press of a button can change your life, which can't be even been imagined a decade ago. This is the power of technology which has transformed our lives into more productive than before.
Some of the activities that include in our day-to-day activities are the search engines such as Google. Who is not familiar with the work of Google and its products which is one of the top search engines in the world? According to a survey, there are 1 billion active users worldwide which has made Google one of the most used search engines in the world.
Google has provided many benefits to companies and even to a common person who can make their brand available even in nooks and corners of the world using this search engine. Google ads are one of the most appreciated features that have helped millions of its users to make their brand famous and a source of revenue generation.
Though this is the scenario many of the readers are still not aware of the [importance of using Google ads. Hence to educate our readers we have come up with this article in which you shall see the importance of Google Ads in detail. Then what are we waiting for? Let's get going…
What are Google Ads?
Google is one of the highly demanded platforms where people want to sell their products or search for one. Hence, Google has come up with Google Ads which any user can use to sell his/her product or services, increase traffic to their website, raise awareness, and so on. This has been a successful area for consumers to explore new items through ads.
It is an online advertisement system that any user can use it buys paying a particular amount based on what the ad is and where it has to be displayed. These ads can appear anywhere such as in Google searches, mobile applications, videos, and non-search websites. This allows the brand to get familiar with the audience and gets noticed very quickly than any other medium of advertisement.
Importance of Google Ads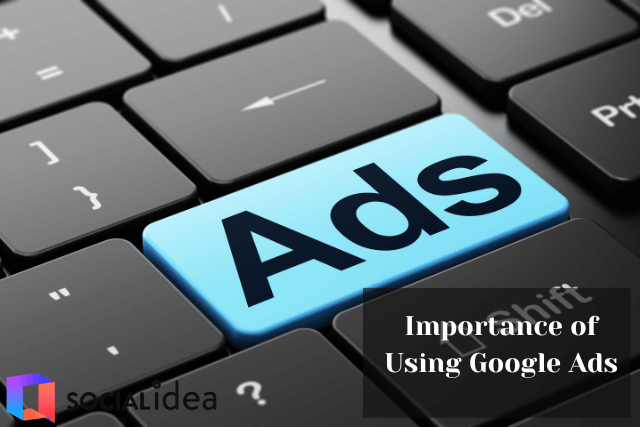 #1 Target your audience
Google ads give you the ability to target your audience in order to improve your sales and get benefits out of this advertising platform. Google shall make sure to display the ads to those people who are interested in products similar to yours and show your ads at the right time. These Google ads appear based on different targeting techniques and below are some of the examples through which one can avail your ads.
Keywords: It is one of the most frequent methods used to display the ads based on the keywords used during the search and the keywords present in your ads.
Devices: There is an option for the users to decide what devices must their ads appear and Google will let only that device receive the said ads.
Location: There are thousands of ads that are mainly displayed based on the location and on such particular locations, locations based ads are displayed.
Frequency and time: One can easily decide when and where the ads have to appear and Google will make sure it happens. We can also decide how frequently the ads must keep on repeating and on what platforms.
#2 Manage your Ads
A single company or a person can have many products and brands that have to be advertised on Google and Google ads can manage such requests efficiently. These types of requests are assigned tools in order to manage them and monitor their ads and accounts. All such multiple accounts are managed by MCC (My Client Account) an efficient tool, that one can use it to view their ads and manage their views.
#3 Cost efficient
When it comes to other platforms there are several restrictions to displaying the ads such as more than one ad cannot be placed by a single user or the length of the ads must be limited and mainly for all the changes that are done on the advertisement the platform charges the user every time. This is not the case in Google ads. It is very cost-efficient and there are tools that can help the user to manage on their own instead of depending on others and paying extra.
#4 Massive reach
Google is one of the most used search engines in the world and advertising on such platforms keeps you a step ahead of your opponents as it can help you to reach around the globe. Google is used by more than a billion users and reaching out to them without Google ads can be really difficult. This kind of massive reach to the audience shall help the user company to grow revenue through internet applications.
#5 Quicker results
Google has many applications such as YouTube, Google maps, Paystore, Google Notes, and mainly a search engine through which it can display your ads and millions of audience can view them. This allows the product to reach the maximum no of customers at once and as a result increase sales of the product. 
Related Posts:
Conclusion
There are many platforms where an individual can present ads but Google is one of the best options to do so, with such a huge platform there are very fewer chances of failure in comparison with others. Then, what are you waiting for? This is the right time to place your ads on Google. Go and make your brand famous.