Facebook marketing is a great way to generate leads and build your business. It's also an excellent place for businesses to reach more consumers in their target market by creating Facebook pages. However, they must share quality content, which will help them sell their products or services fast. Facebook content marketing is the current trend.
What is Facebook Marketing?
Facebook is currently one of the largest social media marketing platforms. It is a place where people see what their friends are up to. Its low barrier of entry means that anyone can use it, which is a crucial advantage for businesses. 
As per the Facebook algorithm, the more engagement on your posts, the more likely you'll generate sales. It is a great place to start if you want to get your business noticed and generate sales.
It is perfect for small businesses that don't have large budgets for marketing campaigns. 
How does Facebook marketing work? 
If you want people to buy your products or services, you'll need to create a Facebook page. Once you post something on there, it is displayed in the news feeds of various Facebook users. 
The more engagement on your posts, the more visible they will be on the news feeds of friends of your followers. As a result, they will become aware of what you are doing and potentially purchase your services or products.
So, the goal with Facebook marketing is to make your posts go viral. As a result, it will be shared by their friends, and you can increase your sales.
Facebook has many features that can help you make your posts viral. One of these is creating a Facebook Page for your business. This will allow you to display exciting content on your Page.
Also, it will enable you to interact with people who have already liked your Page so that they are more likely to buy from you. This channel is perfect for small businesses that don't have those large budgets for marketing campaigns.
Why is Social Idea the Best Facebook Advertising Agency in Hyderabad?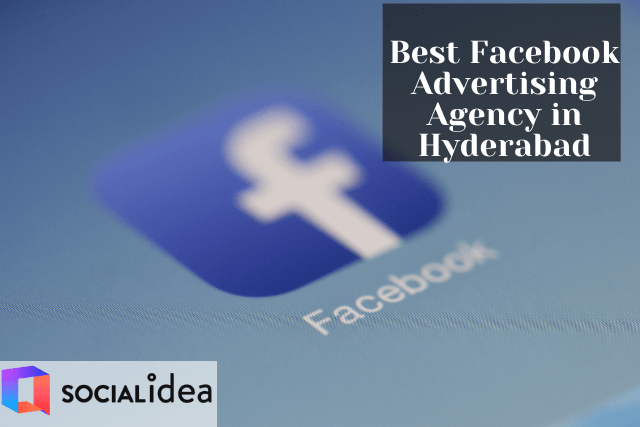 It is the leading Facebook Advertisement Agency in Hyderabad. The agency provides you with the following services:
Brand building on Facebook:
The company helps firms build a brand on Facebook. Their social media marketing primarily aims to engage with existing and potential customers.
Facebook Contest & Giveaway
: 
Considering almost 50% of the world's population is active on Facebook, you can get the most views from Facebook. If you want to give out freebies, you need to play it correctly by holding a contest and giveaway.  Social Idea helps you plan correctly.
Uploading Videos
: 
Videos are visual, attracting your audience more than other mediums. It is becoming popular because of its ability to convey information that can thrill, inspire or teach people something new.
Social Media Monitoring
: 
It is clearly known that our business develops on social media. So, you need to monitor these platforms to see the trends of your audience and growth. At Social Idea, the experts can help you monitor the current trends. 
Commenting on influencers' posts
: 
You can increase your reach by commenting on influencers' posts. For example, if you want to promote a new store opening in your area, find an influencer to comment on their post about the store. It will be like a regular post, but with your updated information, people will click on it and get more details on the offer.
What makes them the best in Hyderabad?
As a leading social media marketing agency in Hyderabad, Social Idea has been deeply involved in developing several Facebook Ads. The ads have helped clients achieve their business goals. 
The company has helped businesses increase their conversions and reduce overall costs with Facebook Ads, which is why it's likely that you'll need their services shortly.
To be a successful business, you need to stay informed – and relevant. Through social media marketing, their clients can use the latest technologies to grow their Facebook Fan base. Their mission is to help our clients reach out to the people they need.
More than just a Facebook Advertising Agency, Social Idea offers unparalleled social media marketing services in Hyderabad. They have successfully helped clients increase their leads, generate more sales and boost their overall ROI. 
Their award-winning team of social media marketers works with you to leverage the power of the latest marketing trends.
The company is aware that time is precious, so they empower you with the ability to access real-time analytics of the campaigns. 
In this way, you can see how your Facebook Ads are performing and learn how to make them more effective for your business.
They can really help you spread your brand awareness through targeted Facebook Ads and reach out to a broader audience through custom audiences. 
Through their social media marketing services in Hyderabad, the company can help your business grow and make the most of the latest social technologies while still saving you time and money.
Key Features of Our Social Media Marketing Services
Generate additional leads, sales, and customer acquisition by driving targeted traffic to your website.

Custom audiences allow you to target relevant people based on many vital factors. The custom audiences created for clients are based on different demographics such as geographical location, industry, age group, gender, and more. This customised audience allows you to reach out to the people most likely to engage with your brand through Facebook ads.

Increase your brand awareness and help generate leads for your business through the Facebook ads that they create for you.

Social Idea offers customised and affordable social media marketing services in Hyderabad to promote your business through various social media advertising platforms such as Facebook, Twitter, YouTube, and more.
Related Posts:
Hire them now!
Social idea offers a wide range of Facebook Advertising services to its clients. This includes News Feed ads, Carousel Ads, Video Ads, Canvas Ads, Slide-In & Slider Ads, etc. These types of advertising allow you to engage with the right audience and communicate with them in the way they like. If you want your company to lead, hire experts like Social Idea.