Every company dreams of becoming one of the highly recognized and profitable companies, but none knows the secret behind becoming one. Just the hard work may get you to become successful but will take a longer time and there are very fewer chances of succeeding. Many have failed by choosing different ways thinking it might lead them to what they desire but couldn't.
One must wonder if all this is not the perfect way to approach the market then what is? Well, your answer lies with us and that is nothing but a PR (Public Relations) agency. True, PR agencies are the future of the communication and advertising industry. Many smart companies have already opted for PR agencies to promote their companies. However, choosing the right PR Company is very difficult. 
The right decision must be made while choosing a PR agency in Hyderabad because the company's future lies in it. Though appointing the best PR agency in Hyderabad is very difficult, few companies can outstand their performance and stand unique from the group. Of those esteemed companies, Social Idea is one of the top companies that have proven a worthy PR Agency.
In this article, we shall see what makes Social Idea to be one of the best PR agencies in the whole of Hyderabad and also we shall see what a PR agency is. Let us not wait long for any further… Let's get going…
What is a PR Agency and why do we need it?
PR (Public Relations) as the name itself specifies enhances the relationship between the audience and the company or any individual by promoting or advertising through media. PR agency helps companies to grow by finding a positive approach and leading the whole campaign with it. This helps the users or the audience to know more about that individual company or a person. 
The job of PR agencies is to bring the focus of their leads and convert them into clients. The promotion includes magazines, television ads, social media posts, newspapers, TV programs, and so on. 
What makes Social Idea the best PR Agency in Hyderabad?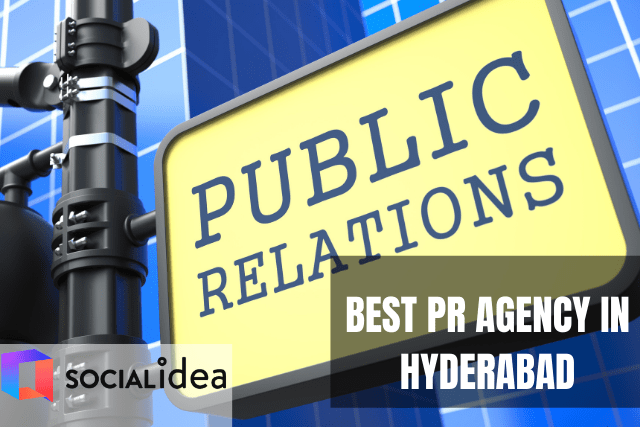 PR Agencies are numerous and can be seen everywhere in the city but not all PR agencies are worth making your PR agency. One must choose the agency depending on some of the factors such as experience, clients, technological advancement, approaching techniques, and so on. These factors are followed by only a few companies and Social Idea is one of them. 
Social Idea has been a successfully emerging company in the field of PR agencies. It has some high-status clients which are very hard to acquire and yet we have been successfully promoting them till date. Below we have mentioned some of the points or facts that are proof of Social Idea being one of the best PR agencies in Hyderabad.
#1 Crisis management
A PR agency must be well aware and prepared for the unforeseen crisis that can occur to any company or an individual which are common these days. Companies often make mistakes of providing unwanted or wrong statements or making wrong decisions and PR agencies must be ready to show the right path.
Social Idea is one of those PR agencies where it has tackled many difficulties smartly and protected our client's interests.
#2 Media relations
Social Idea has a wide network on various platforms and has been handing a good relationship with all of them. These Media relations also include us writing pitches and attracting influencers to show their interest in the company's products and give it wide media coverage. This Social Idea helps you to land many offers in a very period.
#3 Creative events
Planning creative events is a marketing strategy and to promote our clients we establish smoother communication between the end party and the individual or the company. This not only helps Social Idea in the advertisement but also helps the audience to know what our client's strengths and capabilities are.
#4 Researches
Before promoting any company, one must do a rigorous research on the targeted audience and their likes in the company. This can be carried out through conducting surveys, interviews, feedback forms, social media, and so on. This has been one of the most effective ways of researching. At Social Idea, we have always put forth our client's interests and responsibilities.
#5 Effective communications
Communication is the basic factor in becoming a top PR agency in Hyderabad and Social Idea has acquired numerous clients with effective communication skills. Social Idea is well known for its communication abilities between clients and their audience. A PR agency must know what must be spoken and when as they are representing some of the high esteemed clients.
#6 Social media
Being the number one PR agency in Hyderabad, social media is our main and biggest platform to showcase our promotions and advertisements. We believe it is one of the most effective ways to reach every age of audience easily and more efficiently. 
Social Media has always mesmerized us with its different uses and unique ways of entertaining us and at the same time helping us to gain knowledge and Social Idea would like to gain all the benefits from it.
Related Posts:
To sum up
After considering all the above facts, it is clear that Social Idea is the number one PR agency in Hyderabad. We approach every lead as a client and see the client's success as our own. Our workflow is unique and special from other PR agencies and we guarantee our client's growth in a very short period. 
This is the main reason that all our clients highly recommend us in the whole of Hyderabad. We believe in honesty and transparency and we would like an opportunity from you to showcase our talents. 
Call us on+91 9160 777000 or mail us at info@socialidea.com  to get an appointment with your PR agency in Hyderabad Social Idea.