In simple terms, lead generation can be understood as creating the consumer interest in the goods and services your deal in. Thus, if you see for nurturing the heads through the purchasing power, you can use lead generation tips and suggestions for driving out marketing and developing a system based platform.
As soon as a lead is created, you may inform them of your services and start the process of turning them into a customer. Your business will undoubtedly collapse if you don't generate any leads, so today I'm going to teach you some tested strategies that will increase your lead generation by 113%.
Ready? Here is my best advice for generating leads.
Best 8 Lead Generation Tips and Strategies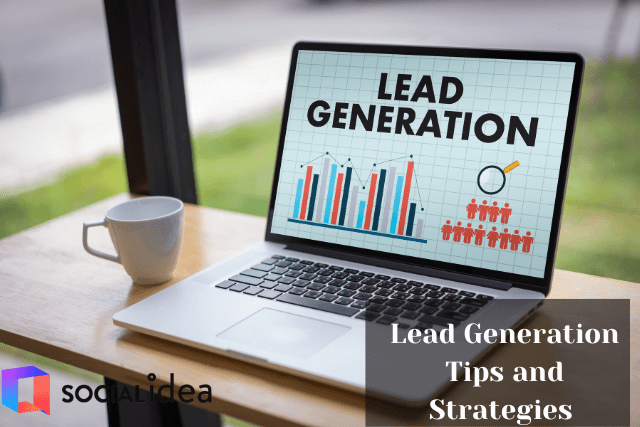 1. Utilize Appropriate Tools to Follow up on Leads.
First and foremost, you must be able to track the ROI whenever you generate leads in any way, be it through Google Ads or Social Media Ads. Additionally, set aside the proper budget to convert your leads into clients.
You can track your Google Ads quite well with Google Analytics. It helps you to track audience behavior and analyze website traffic. Additionally, it might help you understand the commonalities among your clients, so you can modify your advertising to reach a wider audience.
2. Observe your Competitors.
Second, keep an eye on your rivals. Have they introduced any new services, goods, or even websites?
You may stay ahead of the curve and outdo your top competitors with new items to win over the market by keeping tabs on what they're up to. Therefore, merely following up with them can generate brilliant ideas that help your company soar.
3. Warm-up Leads by using Social Media.
The third quick lead creation strategy is to utilize social media. Social media is utilized for a variety of purposes, including engaging with customers and increasing brand exposure during campaigns. However, you can also use it to strengthen your sales pipeline.
Your company should be directing customers to the website, and sending them there immediately is a good strategy to increase the number of leads. Simply publish a blog, give an offer or discount to entice visitors, and encourage them to click.
Learn more about running successful social media campaigns here!
4. Put Quality before Quantity.
Are you thinking constantly about the number of leads you generate by following your tactics in a month significantly? Never be. Significantly more significant than lead quantity is lead quality. More importantly, than 1,000 leads that convert at 10% are 100 high-quality leads that convert at 60%.
Your sales team will also have more time because they won't waste it on calls and conversations with uninterested clients. Consequently, they can concentrate on the clients who wish to make purchases.
5. Streamline your Website for Generating Leads.
Under this segment, it is to be understood that there are several ways to increase or generate leads for a business. Getting a good web server for WordPress is one simple process. Are you willing and excited to know the most effective and efficient internet-based lead generation tactic?
Thus, by keeping your website straightforward you can drive out prospective customers more quickly. So, look for considering your website from users' and customers' perspectives view. Cleaning up your pages is the key to making your website easier to navigate on smaller displays.
If your visitors are diverted by superfluous features or pictures, they won't convert into leads. Therefore, while developing a website for lead generation, pick a call-to-action button that is obvious and simple to locate.
6. Employ Sales Intelligence Philosophy.
You must educate yourself about your prospect and their sector if you want to know how to produce leads that your sales team will adore. Today's lead generation techniques emphasize relevance to the client to the point that they can set you apart from your rivals.
More than merely visiting a prospect's website is necessary to understand them and show interest in them. More in-depth sales intelligence is available to you to find qualified leads and close more sales.
This lead generation strategy involves using the marketing data you discover in a way that benefits your prospect. It enables you to benefit business leads by using improved sales qualification questions.
7. Make use of Search Intent.
Three layers make up the typical sales funnel: conversion, consideration, and awareness. However, have you ever thought of deleting some of them gradually? Also, what if there was some method to save some money while relying on improving the effectiveness of the sales funnel initially?
The initial phase in the sales process is to draw potential clients into your funnel, sometimes using sponsored advertisements, and move them to the bottom, where they make a purchase. Nevertheless, each lead generation strategy needs to be customized for your consumer.
Analyzing the intent of the terms from your keyword research is the key to avoiding the top and middle of the funnel processes.
8. In your Content, including Links to your Webinars.
You should remember this article's best lead-generating advice, which is how a webinar may benefit you. A webinar is a comparatively inexpensive approach to reach a targeted audience that specifically requested your message when they registered.
A small consulting company produced over 100 new, qualified leads through webinars, which led to six opportunity-based meetings. The discussion of $50,000 in services resulted from this. Additionally, according to 52% of marketers, webinars and seminars are the best channels for attracting targeted leads.
Related Posts:
Final Words
To nurture your leads, you need data-driven material. Additionally, if you want to make the most of your time, you must broaden your audience and repurpose your material to attract new customers to your company.
Even if your lead growth isn't 113% in a week, if you're consistent, you'll probably achieve that mark. "Hacks" are not some enchanted push-button techniques with a weak base. Real fulfillment comes from what you discover when putting these tried-and-true lead generation strategies to use.
Social Idea provides more services than only lead generation. Strong inbound and outgoing SDR solutions are offered to them. The fact that they have assembled specialized lead databases for businesses in a variety of sectors, such as education, financial services, and biotechnology, is something I especially appreciate.
To keep track of the progress of different leads, you even have a dedicated sales enablement platform. What other lead generation tricks have you found to be effective? Please share any case studies, queries, or thoughts.