Do you know that over 45% of the marketing leads that are generated with time never result in any hike in sales? Because they don't have the right lead creation tools or software, businesses can't prospect for and nurture leads.
Tools for lead generation do more than just gather data and provide leads. Turn prospects into customers, it also involves qualifying, nurturing, and scoring leads. Not as easy as it seems!
It can be difficult to assimilate and bring the whole process about. It may result in the loss of potential clients if not streamlined. Lead generation tools can help with that. We'll go through the key features of lead generation software in this article and provide you with a detailed overview of some top lead creation tools available.
So, to start with, you are required to first plunge into the fundamentals to understand far better your requirements.
Why is Lead Generation Tool Necessary?
Tools for generating leads are quite useful because they attract the required leads with little effort. By removing the cold leads from the start, the sales staff can concentrate on consumers in a more personalized approach.
Below are some further justifications for employing lead generation tools.
1. More Accurate Client Insight.
Ask the proper questions to uncover the W's driving your consumers' purchasing decisions so you can better serve them.
With the aid of lead-generating software, marketers can gather vital information from website visitors who become clients. Even if the visitor decides not to purchase the goods or services, the information gathered is useful in determining why the sales funnel was left unfinished.
2. Higher Quality Leads.
Do you have qualified leads? It doesn't always matter how many leads you have because not all of them will be qualified. The marketers will find it challenging to target a cold or lukewarm lead, or possibly the ROI won't be good at all.
Once they subscribe, a lead-generating platform includes tracking engagements, customer interactions, and personal information to score and analyze customer data.
3. Fantastic Marketing Strategies.
Without understanding your audience, you cannot develop a marketing campaign. You may assess the most effective method to contact your target audience using analytics, which is a strong feature. You can quickly retain existing clients in addition to drawing in a larger audience.
Which Lead Generation Tools Are Available?
You can utilize a variety of lead creation systems to generate B2B leads. Here are a few examples:
Inbound lead generation tool: Using inbound lead generation technologies, you may attract leads to your website.
Outbound lead generation tool: These tools are used for finding and contacting leads via email, phone calls, social media, etc.
On-page lead generation tools: Aids in obtaining leads from your website (lead capture forms).
Tools for managing marketing: Analyzes performance to improve lead generation efforts and focus on high-quality leads.
Email marketing tool: The creation of nurturing programs using email marketing technologies helps to keep prospects interested and progressing through the buying process.
Tools for search marketing: Aids in boosting traffic from both sponsored and organic search to enhance on-site leads.
Top 5 Lead Generation Tools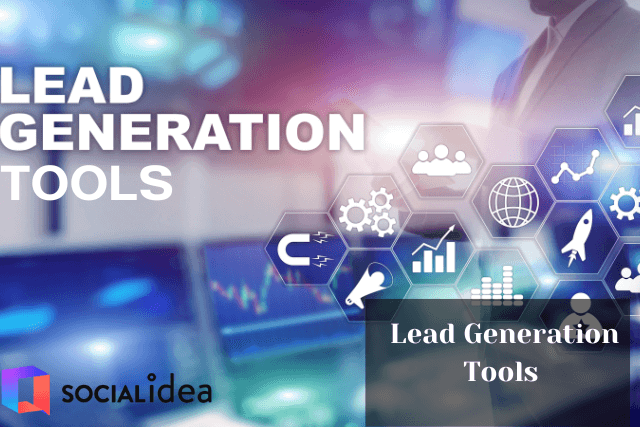 To make it simpler to compare them and select the best lead generation tool for your company, we have put together a comprehensive list of products with their features and other aspects.
1. Hunter
A variety of lead creation tools are available from Hunter. To create and manage cold email campaigns that automatically produce leads, use Hunter Campaigns. Custom attributes, personalized sending schedules, automated follow-ups, and email monitoring are all supported for extensive personalization.
Then there are Hunter Templates, a collection of effective cold email templates that you can use to launch a campaign right away.
Furthermore, you may obtain precise email addresses for your prospects with the aid of tools like Email Finder and Domain Search. Hunter for Chrome is another Chrome plugin that allows you to search for email addresses linked to any page you visit.
2. OptinMonster
You may develop opt-in forms with OptinMonster to utilize to collect website leads. It provides a visual builder with drag-and-drop capabilities that enable anyone to easily construct beautiful opt-in forms.
It also includes a tonne of pre-made templates that you may edit to meet your needs. In precise form, you can understand that there are variants available to it like pop-ups, overlays, slide-ins, or other forms or templates.  
Also, you can use the toll to set apart the rules for focusing on specific visitor segments. Display pertinent material to visitors based on their location allows for geolocation targeting.
3. HubSpot
The marketing software from HubSpot is a comprehensive set of tools that enables companies to increase traffic, find new prospects, and promote them via email and advertisements.
HubSpot has a long list of features that make it worthwhile even if it is on the more expensive end of the spectrum. HubSpot makes it possible to run profitable marketing campaigns, draw visitors, and turn them into customers.
You can manage their social media accounts, and email campaigns, and concentrate on lead creation thanks to several tools. It's the ideal option for several small businesses.
4. Mailchimp
Mailchimp, another widely used email marketing service that is primarily used by bloggers and small businesses, has grown into several industries, including eCommerce, enabling business owners to create their online storefronts and utilize them as a hub for multichannel marketing.
In terms of automation and email marketing, MailChimp is a market leader. If utilizing the most recent MailChimp version, users can also embed CRM functionality. Based on the pricing structures and services offered, website and commerce plans are fundamentally different.
It gives users access to seven marketing channels, one-click automation, the ability to use simple survey templates, and the ability to make their domains.
5. ActiveCampaign
An email automation tool called ActiveCampaign will assist you in enhancing consumer experiences. It's by far the best email automation solution available, but its other capabilities shine when it comes to enhancing lead creation.
Live chat, landing pages, and other features in ActiveCampaigns are there to help you generate more leads. This tool is quite comprehensive and can assist you in creating some incredibly complex campaigns that will aid in lead generation, sales, and marketing.
It's wonderful if you're looking for a tool that is simple to use because it is also rather user-friendly.
Related Posts:
Final Words
Don't be duped by any of the flashy lead creation tools available. Utilize tools for automation, for the correct purpose. But keep in mind that it will take time to attract excellent leads and engagement to your company.
Any genuine, prosperous business needs time to develop. To get results, especially when developing your lead generation strategy, you must put up effort and step outside of your comfort zone.
With 
the 
help 
of 
Social 
Idea's 
lead 
generation 
services, 
you 
may 
get 
more 
qualified 
and 
targeted 
leads 
in 
both 
B2B 
and 
B2C 
sectors. Based on the interest or inquiry customers have shown in your products or services, a lead-generating firm might be your first step toward establishing a relationship with them in the realm of digital marketing services.