Though often you indeed find to hear the term 'Lead Generation' but do you know what it means and what you need to know before starting an effective lead campaign for your business?
Together, let's learn about leads, how to generate them, how the B2B and B2C lead generation process works, current trends in lead production, and where to get your first leads.
A lead is what?
A lead is an individual or business that may be interested in your goods or services. Each lead is made up of data you already have about them. A simple lead can consist of a name, contact information, and the name, location, and job title of the company.
Lead generation: What is it?
After finishing the lead definition, let's explore the meaning and components of lead generating.
In simple terms, the process of finding the right people who might be interested in your goods or services and thus reaching out to specific people from all around to start a conversation with them and transfer it into a business relationship is termed lead generation.
In other words, you can understand it as an awareness initiative stage, which is simply termed as the initial or the starting step in the buying process.
B2B Lead Generation Meaning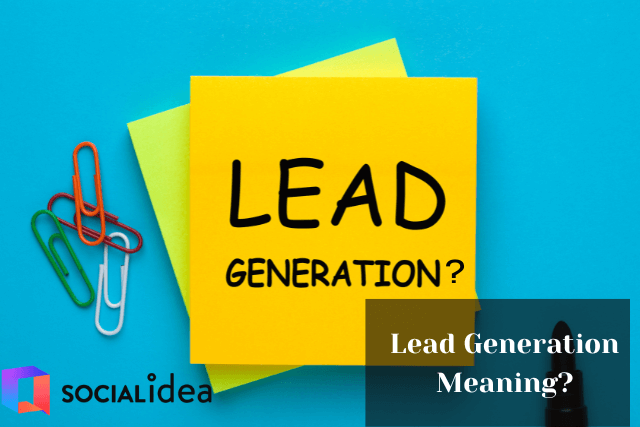 Now as you know lead generation meaning, you need to know the meaning of B2B lead generation for an effective lead generation for your business.
Thus, in simple terms, B2B can be defined as the process of identifying the right consumers for your goods or services you deal in and thereby lucrative them in purchasing the said goods or services. It seems to be a crucial and essential task for the team members either in sales or marketing.
This knowledge base is filled with resources that will help you understand the value of B2B lead generation and offer helpful suggestions for starting it at your company right away.
Why is Generating B2B Leads Important?
The success of a company depends heavily on the generation of B2B leads. We have found several elements that prove its significance for B2B sales and marketing teams as well as the overall company. They are laid down here.
It corresponds to how modern B2B clients start their purchasing process.

It is useful in increasing the return on investment for the sales and marketing of goods and services.
Likewise, it creates a foundation for establishing relationships and trust.
Furthermore, it boosts win rates and shortens the sales cycle.
It turns and makes it simple for the users to scale up or figure out the consumer's acquisition effort.
Who Performs Lead Generation for B2B? 
In general terms, sales and marketing are the two sectors that oversee the entire process of B2B lead generation. They work either independently or are even willing to work in a group for the fulfillment of the objective. It is ideal for sales and marketing teams to work closely together for B2B lead creation to be most successful.
Sales
In general, a sales team can be specifically divided into two teams for the B2B lead generation. These teams essentially carry out distinct and well-planned duties to it.
One such team is named Sales Development Representatives (SDR), and they are usually in charge of finding and evaluating the leads, additionally, it is useful in communication and scheduling the meetings.
Another team is termed Business development managers (BDMs) and they are usually in charge of setting up the demos, conducting the transactions, and also involved in producing the income of the company.
Marketing
There are typically two types of marketers who concentrate on generating B2B leads. Although their areas of expertise may overlap, they have completely diverse marketing strategies. These two groups are:
The entire B2B lead generating revenue cycle is the focus of the demand generation marketers. Their goal is to cultivate leads, helping them progress from merely knowing about your business to being a customer and then an advocate.
Growth hackers are a group that prioritizes creating rapid revenue growth with the least amount of resources. They often work for companies in the early stages and have a more experimental mindset. Generally speaking, the activities they engage in are frequently less scalable.
Bonus Tip: Top Ways for B2B Lead Generation
Cold calling: Cold calling is when SDR phone B2B leads, describe the advantages of their goods or services, and qualify the lead for further interaction. Cold calling can be done by hand or automatically using technology.
Outbound Email: The outbound email refers to SDR emailing B2B leads to start a discussion. The majority of the time, email automation services are used to manage outbound emails.
SDRs: SDRs use social selling to follow and interact with B2B leads on social media over time to build connections. LinkedIn is the main social networking platform for business-to-business interactions.
B2C Lead Generation Meaning
Business to consumer, in any other case, referred to as 'B2C' refers to direct promoting among a commercial enterprise and an individual, referred to as a consumer. It applies to any form of direct-to-consumer promotion.
For example, it passes through a wide range of products, services, subscriptions, etc. Generally, any trade between a commercial enterprise and a consumer. Although it covers any form of direct promoting, it's miles especially related to online promoting, additionally referred to as e-trade.
Why is Generating B2C Leads Important?
You want to reach out to as many potential customers as you can quickly with your product and service. Moreover, the reality to generate online leads is not easy or simple as you think. Right from placing an ad in a local newspaper of your business to a successful approach, all need strategic planning including investment, time, and resources as well.
Are you still not convinced by the saying? Look down to the key benefits at it for effective execution of lead generation strategy for any business:
It enables potential consumers to contact your products so provided on your terms.
It helps bring out the most qualified leads to your doorstep for your business.
It is an inexpensive strategy for lead generation.
Bonus Tip: Top Ways for B2C Lead Generation
Customers don't want to be bothered by intrusive marketers or pushy salespeople. Conversely, they prefer such companies who can win their trust by providing them with the valuable content they are looking for and the best digital experiences in providing useful insights into it. 
This is what I call a win-win situation!
Describe a Problem's Solution in a Video.
The popularity of video marketing right now also makes it possible to convey a lot of information concisely. A wonderful method to engage your audience is by making videos for your website, social networking platforms, or even YouTube.
Cross-promote Social Media and Email Marketing.
Cross marketing is a terrific strategy to bring on additional customers, and also build your following. Perhaps, some of your audience may be active on social media sites, but are responding or active on the email marketing platform. Also the opposite.
Use Twitter and Facebook to Communicate.
Social media is a fantastic platform for communicating with your audience. And, lastly, you need to be aware that B2C is a term meant specifically for consumers at wide. Thus, answering your audience is a must even though which platform they are engaged in. This will appeal to your consumers and enhance their perception of your brand.
Related Posts:
Final Words
In the business world, many companies fit either B2C or B2B. Some people can do both. However, while considering B2C, you must employ a variety of strategies to generate leads for your business. 
With the help of Social Idea's lead generation services, you may get more qualified and targeted leads in both B2B and B2C sectors. Based on the interest or inquiry customers have shown in your products or services, a lead-generating firm might be your first step toward establishing a relationship with them in the realm of digital marketing services.