Social networking has recently been shown to be a fantastic channel for inbound marketing. Inbound marketers that have been successful in utilizing social media have cause for celebration.
To put it another way, social media enables the widespread sharing and promotion of content produced by inbound marketers. Social media is useful throughout the entire inbound marketing process since inbound marketers need to attract, convert, close, and delight to gain visitors, leads, customers, and promoters.
Simply put, in simple terms, social media can be understood as an initial tool that can help its users of it to reach the most prospective consumers as well as to keep the old customers at hand lifelong. To see how inbound marketing functions, refer to the figure below. But, before you move to the importance you'd rather need to indulge in some other aspects.
Should Social Media be used for Inbound or Outbound Marketing?
To start, should social media be used for inbound or outbound marketing? You can initially know that businesses can easily with the help of social media interact with their target audience.
The most important of its numerous benefits is making use of the chance to position your company as a customer-focused brand. This means that since it focuses on utilizing the capacity to connect with your audience, the ideal social media marketing plan will always come under the umbrella of inbound marketing.
Now, without much delay and ado, just swipe down and look into how social media and inbound marketing go side by side and collaborate all together.
Key 5 Importance of Social Media for Inbound Marketing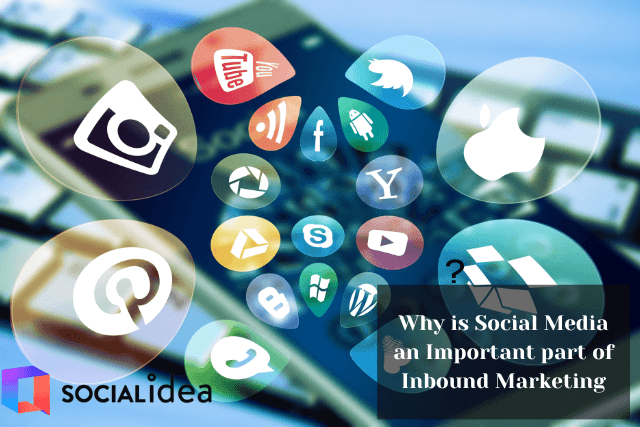 1. Aids in the Promotion of Content for Inbound Marketing.
Social media opens a route for you to share your excellent content and draw in new and returning readers. A solid promotion strategy will make it easy for you to accomplish your inbound marketing strategy objectives.
The following should be included in a solid promotion strategy:
Owned Media: Owned media, often known as self-produced content, includes things like podcasts, blogs, social media posts, etc. Your material is completely within your control.
Paid media: This is content that you purchase to reach your target audiences, such as advertisements and sponsored content.
Earned media: The main players are your audiences. They will help you become seen by creating content for you (such as reviews, social media shares, or other user engagement).
2. Support for Generating Content Ideas.
Without a doubt, you can find content ideas on social media. You can find out more about the types of material people are discussing and sharing, for instance, by using Reddit and Quora. 
Additionally, you can browse discussion boards and read online reviews. However, you are advised not to simply stick and engage yourself in the few social media networking sites. There are no boundaries! The various social media platforms that you might use to compile content ideas are depicted in the figure below.
Facebook 
Low marketing costs,

Worldwide exposure is enormous,

The capacity to identify potential clients,

Boosting website traffic and brand loyalty,

Helpful information, including, competitive data and Facebook insights,

Starting with the finished product is the best place to start, 

A follow-up, and

Rise, do it again, and improve.
Twitter
Break the corporate image of distance,

Boost client satisfaction,

Drive visitors to your website and improve communication,

Observe the trends in your sector, and

Reaffirm your ties to the community where you live.
Instagram
Increased engagement, 

High rate of conversion,

Connected through a multi-channel,

Obtain the desired market, and

Reduced CPC Greater visibility.
3. New Opportunities can be discovered using Social Media.
You might be wondering all about how is all this possible in a single click. However, do not worry much! I am here to give you a brief and simple example to better interpret how it all works or functions gradually.
We utilize effective tools to build a listening tab with search streams of previously published blog post URLs. We can observe who is spreading the stuff we have published by doing this.
When we notice that a certain audience is sharing a particular piece of content or hashtag more frequently, we interpret that as a growth signal and act quickly to seize the opportunity before our rivals do.
By doing so, we can gain insights into demographic segments or geographic areas where customers are most likely to be interested in our goods and services.
4. Helps you Better Understand your Audience.
Social media today has a wealth of useful information that can greatly help you in your ability to comprehend your audience. Before developing content, you simply need to apply the appropriate analytical tools to gain a better knowledge of who your target audience is. 
Once you've done that, it will be simple to produce content that both search engines and your audience will enjoy. Google, for instance, appreciates material that responds to audience search requests.
5. Boost Organic SEO Activities with Social Media.
Media SEO, or search engine optimization, raises brand recognition by bringing your material in front of the audience. You further need to know that there is a strong connection and presence between how social media works and SEO optimization as if you use only social media is not only the way to directly influence consumers.
Also, it is crucial to know that the users who are seeking to increase their social presence are required to indulge themselves in the knowledge and basics of SEO optimization for the generation of leads.
Additionally, using SEO can be seen gradually as a fantastic approach for directly increasing the traffic on your website like a Pro! Because most people conduct business with you online, your website is where you want to focus your marketing efforts.
Furthermore, the usage of social networking sites can gradually increase the website traffic of the webpage you explored. Your brand will receive more exposure the more social media activity you have. With more visibility and insightful content, you can connect with your target audience and create enduring relationships.
Also See: Best Social Media Services in Hyderabad
Bottom Line
In concluding the post, you will get to know that gradually by using social media you can initially help yourself and your business to increase the social presence of your business.
You can use social media at every level of the inbound marketing process to provide your company with a competitive edge. Therefore, if you haven't yet included social media in your inbound marketing strategies, we implore you to do so right away.
Do you need all-encompassing digital marketing solutions for your company? Don't then venture beyond. To acquire comprehensive digital marketing services for your company, work with Social Idea, a digital marketing professional.
When you work with Social Idea's Digital Marketing Experts, your brand's online visibility, website rankings, visitor traffic, and lead generation all improve.