These days our whole life revolves around gadgets and without them, it is very hard to imagine a day passing by. We make our day-to-day activities easier by using these gadgets or any tools and this is only possible only through software. Just the software is not enough to run a website or a database; graphics must also be included for friendly user software. 
Graphic designing is the hardest part until it is done with passion and at Social Idea we do it with passion and joy. Welcome to another article about Social Idea and their role in graphic design. Yes, you heard it right. 
Social Idea also provides graphic design services. There is a wide scope for graphic designing if done properly and effectively. For more information, please visit www.socialidea.in or search graphic designer near me or Hyderabad.
Being one of the highly recommended graphic designers in Hyderabad we have to keep ourselves updated and upgraded with the latest software available in the market.
As there are a variety of graphic designers, why does one have to come to Social Idea? We are here to clear your doubt. Please go through the article not only to know why Social Idea is the best but also to know what is graphic designing and more about it.
What is a graphic designer?
In general, a graphic designer provides visual concepts which any individual can understand easily. This is developed through software or by drawing the perfect designs. This helps the company to easily interact with their customers and also to attract an audience for their products in the most effective way.
Why is Social Idea the best graphic designer?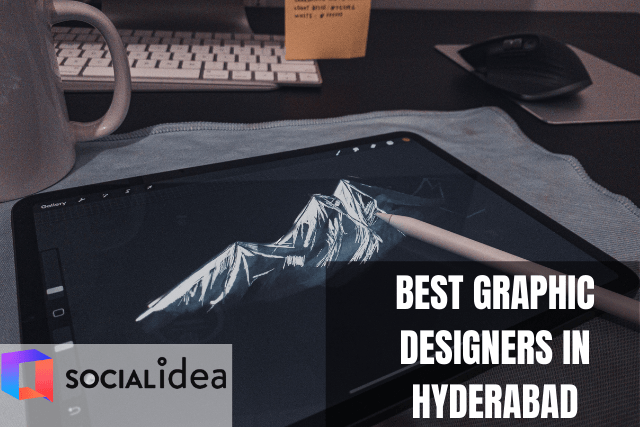 #1 Unique designs
From designing a logo to designing the layout of the end page, we have been impressing our clients with our unique way of approach to the concept. Our design team always looks for the best way to represent the product and tries to keep it simple for a better understanding. If a product is sold based on its advertisement and design in areas of crisis earnings then it would be a great loss to the company.
#2 Advanced software
To get a quality output one must manufacture it with utmost care and well-equipped machines. We at Social Idea have one of the best-advanced software to carry out any difficult tasks that come our way. Updating and upgrading these tools will always help us to stay ahead in the market.
#3 Experienced designers
Before creating a design one must be aware of the pros and cons of the product and to eradicate the cons and turn them into pros is not an easy job. At Social Idea, we have highly educated and experienced designers who think outside the box ideas. This not only helps us to get better at designing but also we get to add our creative ideas on the perfect base designs which ensure us the great heights.
#4 Constant learning
To become one of the best graphic designing companies one must not only be able to hire a good designer but also keep conducting learning courses inside the company which helps the designers to know what trends or what tools are new in the market. 
At Social Idea, we train our employees to be constant learners and we believe that no knowledge is fully acquired. This makes it stand uniquely in the market with updated skills as per the client's requirement.
#5 Fun and encouraging environment
One of the secrets to being the best graphic designer in Hyderabad is to make the environment of the company more friendly and homely. This helps the workers to be comfortable and not under pressure which leads to a better outcome.
At Social Idea, we care for our employees well being and we believe that our employees are our best assets. This will allow us to create new and innovative ideas than other companies.
#6 Proactive approach
The most attractive way to present a project is to acquire a positive attitude towards the work. Tackling all the challenges with a proactive attitude is very much necessary in a graphic designer. We at Social Idea are built from experience, guidance, and rigorous training. Hence, any difficulties we face are managed tactically.
Benefits of having Social Idea as your Graphic designing partner
Social Idea is one of the long-standing companies in the field of graphic designing and has won many clients through its hard work and dedication. It has a wide area of the network through which any client's products can be advertised in any part of the country with perfect graphic design. As Social Idea has experts working on all the projects, one may not need to worry about any technical stuff. 
Cost consumption is very less compared to other companies as we are equipped with high-end software through which very less human power is required for graphic designing. Establishing a design department in their own company is quite more expensive than through Social Idea.
We exchange our ideas and thoughts to form a new and strong one and should be able to last long so that the company can focus less on advertising or graphic designing and more on its products. As Social Idea is into advertising and graphic designing we are available 24/7 at your service to face anything beside you.
Related Posts:
Conclusion
Considering all the above facts we hope that our readers are now well aware of why our clients always prefer Social Idea as their first choice. We are very happy to mention some of our clients who are running their business successfully and tension free for a long time. Some of them are Sugna TMT bars, Bajaj Allianz, Fever 94.3 Fm, Wall Decorato, Cautumnalane, and so on.
Graphic designing has always been one of our top departments and Social Idea is proud to have some of the best designers in the company. We would like you to allow us to use these special minds in developing your company. Lift your phone and give us a call or email us and get ready to be amazed.