We all have witnessed how the internet has changed our life by making complicated things much easier and reachable at our fingertips. Making use of this cutting-edge technology, every sector is outgrowing itself and getting adapted to newer ways of showcasing itself to its audience. Similarly, marketing is one of the most looked after when it comes to a company's growth and has always been the savior of the companies when in distress.
Marketing opens up the doors and content writing helps it to do so. Content writing is a form of marketing technique in order to attract customers by presenting them the particular product of a particular company which is carried out by content marketing companies in Hyderabad.
Though this seems to be one of the best techniques which can be used during marketing in a company, it is very hard to carry this out. Carrying out it properly requires proper knowledge of how to approach the audience.
There are several content writers in Hyderabad who are willing to be at our service. However, we must make sure to choose the right service providers who are capable of choosing the right words for your product.
Well, your search for content writing services in Hyderabad ends here. Presenting Social Idea, one of the best servicing companies found in Hyderabad. We at Social Idea are best at what we do and we would like to present the same in this article in detail. Let's not waste any more time and get into it.
List of content writing services provided by Social Idea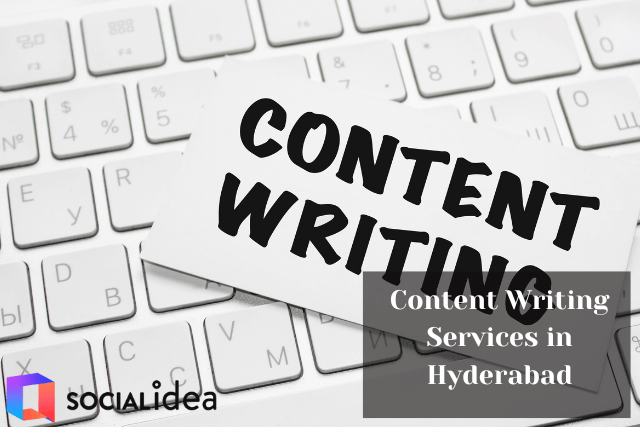 #1 Website Content
Before a company openly advertises its brand, it makes sure that its inbound marketing is fully prepared with all the necessary content and one of them is the website of the company. When a client is referring to any piece of information, he/she might be able to link your website for the same in order to make their point. In return, you are being advertised by all the people who are visiting your website.
Website content resolves 30% of the problem or traffic between the consumer and the company which enables the company to focus on the actual matter. Hence, appointing a website content writing service in Hyderabad such as Social Idea will help you to stay ahead of your competitors.
#2 E-Books
In this busy world, no one has the time to visit the library to read a book or a piece of article and hence, they buy e-books. Today, E-books are sold more than the original books as it is very convenient to acquire information in a fraction of a minute. E-books can also help companies to reduce printing and paper costs and can market all over the globe.
However, all E-books are not efficient unless it is written with careful supervision or guidelines and such special qualities are hard to find these days. With Social Idea, it's a piece of cake where the company shall make sure that your E-book is one of the most unique ones present in the market.
#3 Video or Podcast scripts
When it comes to video content writers in Hyderabad or podcasts, no one can beat us as we have some of the highly educated and experienced techies in Social Idea who can transform your view of the message into a whole new world. It's all about how the message is being shown in a video and no other companies can do it as better as Social Idea.
Podcast scripts are the most difficult job as the person must be able to attract the audience through just your vocal medium and even a single word misused might change the entire meaning of the message.
#4 Social Media Page
Who is not familiar with social media platforms? Social media is known for creating big headlines which change the trend in less than a day. Do you want to be a trendsetter? If yes, you must be able to attract more and more followers on social media.
This can be possible through content generation and identifying what your audience is expecting in the present day. Social Idea has been working with thousands of influencers, and high-end companies that are always active on social media.
With the help of Social Idea they have been able to achieve their goals in the minimum amount of time. We are sure that we will be the ones who will set new success heights for your venture.
#5 Blog Post
Blog post content is one of the new trends that have been very successful for many people who have been doing online. Blog posts are nothing but reviewing a product or recommending places or identifying productive activities and so on. These kinds of content are very hard to find as thousands of people are doing the same work and working on a single product.
Then, the question is how to stand different and attract as many as followers. This code can only be broken by Social Ideas and it has many examples in its sack. For more information, please visit our official website – www.socialidea.in
Why choose Social Idea for content writing services?
Social Idea has always believed in satisfying the client rather than compromising on the work. We have never set a foot back when the company has to go the extra mile to achieve our client's goal and was successful with flying colors. This proactive attitude has always kept us among the top 10 companies in content writing services in Hyderabad.
Content writing requires special techniques of attracting an audience and this is not possible for every company. There are several types of audiences and only one technique is content with which one must make sure to capture the maximum amount of clients. This is only possible through Social Idea because we are also one of the most preferred SEO content writing services in Hyderabad.
We have a team of experienced and talented members who are ready to service our clients every day with a smile on their faces and a goal in their thoughts. Social Idea provides many other different services and hence, we are widely spread across the field which helps us to cover all the areas of the sector.
Related Posts:
Conclusion
Content creation companies in India play a very difficult job as they have to send a prominent message that can directly bring sales or result within a minimum amount of time. Not all players in the content writing field can perform well under pressure except a few who have been going through the process with the attitude of standing firm on the ground.
Your search for a content writer near me ends here. Social Idea is one of the best content marketing companies in Hyderabad and can be your next choice. Give us an opportunity and help us to guide you to a better path with our skills and talent. Call us today for brand building and brand promotion with influential content.