Digital marketing has changed every aspect of how businesses run, including email, content, SEO, and mobile marketing. Also, you will find that your target audience uses these platforms to search for their products and services.
As a result, your website and brand must be available online if you want to differentiate yourself from the competition. A good strategy for creating a presence across numerous internet marketing platforms is to hire a digital marketing agency.
You've found the right spot if you're looking for the top Indian web marketing firms to assist you in growing your company. This list is ideal for you for knowing best digital marketing companies in India at one spot!
List of India's Top 10 Digital Marketing Companies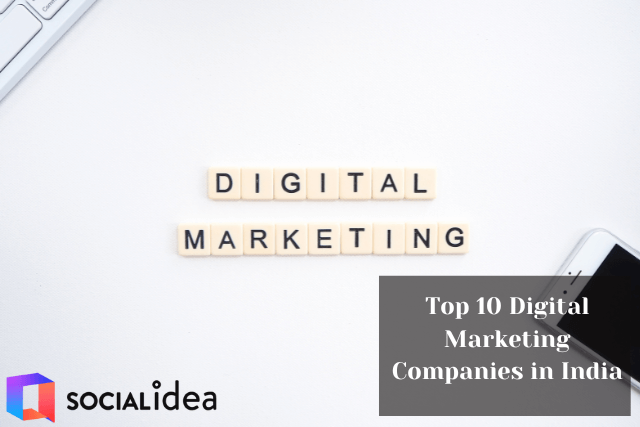 1. Social Idea
Among the digital marketing companies in India, Social Idea ranks first on the list. The Social Idea is a reputable digital marketing firm located in Hyderabad that has achieved great success across several industries and offers distinctive digital marketing solutions to small-, medium, and large-sized companies.
Its services comprise SEO, SMM, CRO, lead generation, PPC, graphic design, branding, and content marketing, all of which are included in its full range of digital marketing services. 
The company is prepared to establish a strong online presence thanks to its comprehensive digital marketing strategy and core staff of talented individuals. 
2. Digichef
Next on the list of top 10 digital marketing companies in India is Mumbai-based boutique digital marketing firm Digichefs, which provides complete digital marketing services.
It offers full-service digital marketing solutions, including content creation for online and offline platforms, technology and UI/UX design, branding and marketing execution using strategies like SEO, social media management and influencer advertising, programmatic and affiliate marketing, email marketing, and marketing automation, among others.
3. SRV MEDIA
Web solutions and online marketing services are offered by the Pune-based digital marketing firm SRV MEDIA. It ranks third on the list of the most popular and top 10 digital marketing companies in India. Its staff is made up of a variety of creative experts, master storytellers, technical wizards, and top-notch problem solvers.
By combining performance and creativity to power up brands, SRV Media provides a wide range of services that set us apart as the top digital marketing firm in Pune, including, but not limited to, branding, performance marketing, social media marketing, public relations, content marketing, and video production.
4. Percoyo
Whether your business is just getting started or in the midst of expansion, Percoyo offers its clients a full digital marketing solution. They are the top digital marketing firm in Bangalore, India, because they are always ready to adjust to the rapidly evolving digital marketing landscape and help you reach more of your target audience.
Unlike the other digital marketing firms serving their clients, things change very quickly in the online medium. Furthermore, it uses data from Google Analytics reports and tools like Ahrefs and SEMRush to assess the condition of your website and make the necessary corrections to keep you on the front page.
5. Digital Rosogulla
Next on the list of digital marketing agencies in India is Digital Rosogulla, an innovative young digital marketing company in Kolkata that can meet all of your needs. 
With a high-spirited passion for marketing unlike anything you've ever experienced, Digital Rosogulla comes to you with experience working in high-flying industries like financial institutes, gyms, hospitals, industrial, and entertainment.
It provides fascinating social media marketing, appealing website designs, SEO, fantastic ad campaigns, creative graphic designs, Google Business Listing, and many other services.
6. WeBee Social India
A thriving digital media firm with offices in New Delhi, India, is called WeBee Social. The group is made up of seasoned social media professionals who work hard and breathe all things digital. Alterations to the algorithms of Google, Facebook, Twitter, YouTube, and Instagram?
Further, if you click on the page to enable the same for the public, it is certain to be aware of it. It blends its years of experience in creating integrated social solutions with creative output to offer a thorough digital experience for their clientele.
In order to provide the greatest answers for each of their clients' problems, it thinks, studies, creates, and thrives for their benefit.
7. Social Beat
Among the best digital marketing agencies in India, Social Beat, based in Chennai, ranks seventh on the list. Google Premier Partner Social Beat is a Facebook Business Partner. It is a team of more than 50 performance marketing specialists that oversees over 3% of India's digital spending.
Combining creativity and performance is one of its key focuses. Additionally, it promotes hiring people to develop hyperscale strategies for the client's goods and services.
8. Garage Media
Ideas come in all different forms and sizes, and it is the role of the creator to transform them into something bigger and more awesome! One of India's top digital marketing firms for branding and creative work is Garage Media, situated in Noida.
These companies are ones that grasp the value of geometry and, hence, know how to construct and shape a concept into something awesome!
9. Appac Media
Marketing is constantly evolving in this digital age of advertising, and outdated tactics are quickly falling out of date. The only way to advance is to follow technological developments and keep up with current events.
As a seasoned digital marketing agency in Coimbatore, Appac Media provides your company with the buzz it needs to connect technology and strategy and align with the most successful companies. Appac Media has achieved success by offering quality through expertise, knowledge, and talent to become a recognized digital marketing and media agency.
10. TechBound
TechBound is last but not least on the list, ranking 10th among the top 10 digital marketing agencies in India. Every business should have a customized and distinctive digital marketing strategy, according to TechBound SEO Company, a digital marketing agency in Trivandrum, Kerala.
You can more easily determine the effectiveness of your campaign thanks to online marketing and web analytics. Additionally, by participating in social media marketing, you can increase brand awareness, customer loyalty, and your reputation as an approachable company.
Bottom Line
You must choose the top digital marketing companies in India that best suit your demands from the top 10 given below. These businesses are all of the highest caliber and constantly provide their clients with outstanding outcomes.
Still following my advice, you should contact Social Idea for lead generation, SEO, or digital marketing services. The staff at Social Idea will guide you on your way to unparalleled business success! It is the top digital marketing firm in Hyderabad, and it has a track record of helping its customers succeed with cutting-edge plans that are tailored to their requirements.
Basically, your hunt for the best digital marketing company in Hyderabad is over now! It has been the greatest digital marketing firm in Hyderabad, providing many of its clients with the highest level of quality and attention.