Despite the number of articles and videos about producing real estate leads online, most realtors still use inefficient lead-generation strategies like a door-to-door solicitation.
Furthermore, you really have no choice but to be able to fill up your pipeline if you want to succeed in real estate, a business where you may encounter seasons of both plenty and scarcity.
In this article, you will get to know some of the top ten ways for how to generate leads for real estate business in India in 2022.
What is Real Estate Lead Generation?
Let's go over what precisely "lead creation" in the context of real estate is before we truly delve deeper into these 10 tactics for how to generate leads for real estate business.
Lead generation, in simple terms, can be understood as the simplified process of finding and then turning prospects into leads, favoring the consumers interested in the products or services offered by the business.
Using the right websites and tools, as well as implementing various customer experience strategies, are some of the challenges associated with lead generation in the real estate sector. Simply put, lead generation is a crucial part of a real estate marketing strategy and is in line with the marketing principles that are relevant to a variety of industries.
Best 10 Strategies for knowing How to Generate Real Estate Leads for Free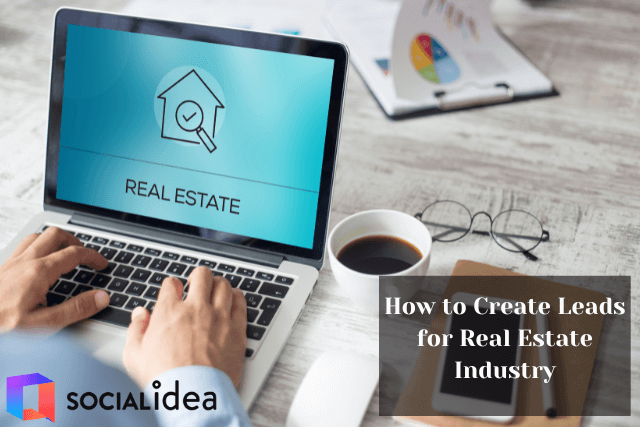 1. Facebook Lead Generating Advertisements + with Eye-Catching Creative
The very first tip for knowing how to generate leads for real estate is to use the Facebook lead generation strategy.
Facebook lead generation ads display in your target's timeline, much as traditional ads do. Instead of directing users to a landing page, Facebook's lead advertising offers a short form that customers may fill out without leaving the application.
Numerous studies have shown that the easier it is for people to take advantage of your offer, the better. Here's an easy guide for knowing how to generate leads from Facebook for real estate:
Make your Content Engaging
Whether you use a video or an image, your content should be able to stop people in their tracks. Check out some examples where a brief, convincing copy and a clear CTA are used.
Limit Form Fields to Five or Fewer.
Facebook automatically fills up the required information in the form when someone clicks on the CTA of a lead generation advertisement. This can be considered an easy and simplified way of generating leads for the real estate businesses.
2. Blog on Real Estate
Building a house and developing an online lead generation strategy are extremely comparable. Typically, your blog will start framing all around if you consider real estate as the foundation. The traffic to your website could grow dramatically as a result of your blog.
You can help prospective real estate purchasers who are searching online for information. For instance, we publish articles that provide information on living in Raleigh, the top neighborhoods to visit, and other relevant local information.
On the other hand, we also create articles with general buying advice, like "10 Steps to Buying a Home." Both kinds of articles have a function. The fact that blogging will help increase your total domain authority is one of the key reasons it is so vital.
3. Send a Letter Written by Hand
Send a note to a past or existing client by gathering a pen, paper, and stamp. Thank them for choosing you to be their realtor, and let them know they can contact you with any issues, for recommendations on a reputable moving company, or to request necessary paperwork for tax season.
A handwritten note of gratitude is a really powerful way to convey your gratitude. Additionally, it prevents you from showing up as just another unread subject line in your clients' emails. Feeling self-assured? A few days later, pick up the phone and request a recommendation.
4. Create a Niche
Do you specialize in a particular area, old houses, or assisting clients in finding the ideal apartment? Embrace it! Find your specialty and master it. This enables you to target a certain demographic with your marketing efforts and establish a reputation as the real estate expert for these buyers and sellers.
Here are some typical real estate markets:
For instance, there are a variety of options for historic homes, mid-century modern homes, luxury homes, neighbourhoods, student rentals, school districts, cities or towns, first-time homebuyers, condominiums or apartments, distressed properties, senior homes, vacation homes, commercial real estate, industrial real estate, and many more.
You don't need to be an authority right away. Choose a niche that appeals to you and devote yourself to it. Continue to read further for more powerful tips and knowing how to generate leads for real estate business in an easy and effective way. 
5. Make Video Testimonies to Create Social Evidence
95% of consumers claim that reviews, whether favorable or unfavorable, affect their purchasing choices.
Video testimonials will increase your credibility. The best method for using social proof to boost sales is this one. This is because referral marketing has a stronger impact on potential customers than self-promotion.
In fact, two out of three consumers say that watching a video testimonial demonstrating how a brand, product, or service has helped another person will increase their likelihood to make a purchase.
6. Expired Listings on Online Medium
Listings can expire or be removed for a variety of reasons, so the real estate brokers should be ready to look the renewal. Even though it's true that a lot of brokers are hesitant to get in touch with properties whose listings have expired, doing so can give you a distinct advantage.
In other words, you must adopt some convincing tactics to convince your homeowner that you are better equipped and capable of managing their listings online than the previous agent, and you can eventually accomplish the goal as well.
However, some agents say that it is quite competitive to adopt this strategy, and sometimes it doesn't work. But, keep in mind that every strategy you adopt there is no surety that it will succeed in once.
7. Incorporate a "Coming Soon" sign
A tried-and-true strategy to stimulate interest in your properties and skills is to post "Coming Soon" and "Sold" signage. Before a house ever enters the market, signs that read "Coming Soon" create excitement.
Furthermore, "Sold" signs can help you get leads from prospective buyers who missed out on a property and want you to make sure it doesn't happen again.
8. Lead Generation on LinkedIn
Join LinkedIn groups that you know contain members of your target market. That may be a community for first-time homebuyers or a network for nearby real estate investors. Before creating a polished pitch, find the groups that your customers are active in and participate in the discussion.
Once you've established support, follow up with potential clients and offer to talk through their inquiries further over the phone.
9. Visit Real Estate Conferences
The next tip you can use to knowing how to generate leads for real estate is by visiting real estate conferences.
Numerous expos and tradeshows are hosted all throughout the country almost every month. You should frequently attend these events because they are fantastic sources of top-notch leads. You might even choose to set up an exhibit at these events to attract potential clients.
Many prospective homeowners visit the local real estate expo to consider their options. You can approach them and try to sell them your property. Alternatively, you may distribute pamphlets and exchange business cards.
10. Be Sure to Look at "For Sale By Owner" Listings
Only 3% of FSBO listings, according to the National Association of Realtors, sell in the desired amount of time, and only 18% of those sellers claim to have received the proper price. Find these advertisements on real estate websites, and then offer to assist the owners with optimizing their property listings.
Give them a link to a blog post or a list of statistics outlining the advantages of working with an agency, and then inquire as to whether they'd be interested in learning more.
Bottom Line
Utilize the ten strategies listed above to learn how to generate leads for real estate, and start expanding your company right away.
Final thoughts and a reminder to get in touch with Social Idea for lead generation. Watch out for utilizing their knowledge. Grow your business by finding the best approach to connecting with the appropriate clients at the ideal time and location! with their cost-effective lead generation services for your businesses.
And, directly fulfill the following three requirements:
Growth in sales.
Increase market share
Construct Market Leadership.