As a business, you likely already spend money on SEO for your website and Google AdWords to increase its visibility and popularity.
Similarly, it may be that you forget to update the listing on your Google My Business platform, just like you forget to keep going with your present start-ups physically. Additionally, you will lose out on all the benefits that local SEO might have to offer; we'll look at those in a bit. Furthermore, using this is completely free.
However, these advantages are only possible if your listing is highly visible, and just because your company is listed in a certain location does not guarantee that Google will give it a particular ranking for searches in that location.
So, let's understand Google my Business in a much simpler way!
What is Google My Business?
Businesses may communicate with customers and appear on Google maps by creating a free profile called Google My Business. Whether or not you recognize a Google My Business listing by name, you've probably seen and used one.
Google My Business profiles, which are essential to your capacity to perform well in local searches, are the cornerstone of local search. You can find the following details in your Google My Business profile: name, category, and contact information of the business.
Top Strategies to improve Ranking on Google My Business(GMB)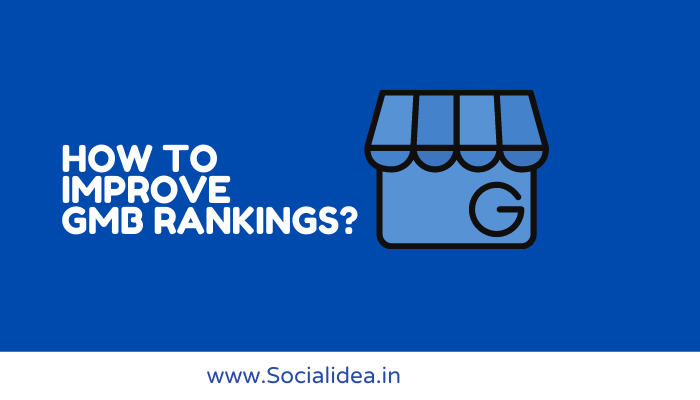 Come on, therefore, let's examine more closely the most important GMB ranking variables and how to enhance them.
Create Your Account
First, if you haven't already, claim it for your company. If your company has been on the market for some time, there is a good probability that the listing already exists (to check, simply conduct a Google search). But until you've formally claimed it, you can't optimize it. This is how to go about it.
Complete every field in your Google Business profile with attention. Like, For your:
N

ame

Business categories (primary and secondary).

Address, Phone, and Hours.

Photos ( including the snapshot of your building, inside the office, and other apartment or inclusive areas)
Description (describing the business crisply and engagingly)
And, other such relevant characteristics depend upon the business you own. As far as possible, make sure all of your information is true and corresponds to what is displayed on your website.
2. Maintaining an active profile in your Google My Business
This entails consistently publishing fresh content, such as updates, promo codes, special deals, the launch of new services, etc. Consider it an additional social media profile for your company that customers can simply locate in search results.
3. Select the best primary category 
Choosing the wrong Google My Business category was probably an afterthought, but it could end up costing you money. Both major and secondary categories can be created in Google, but the primary category has a lot more power.
This is a rather straightforward choice for the majority of firms. A personal injury lawyer who works alone and in a single location, for example, has a simple choice. However, the one for a law company with numerous attorneys practicing in various fields is far more difficult.
For this, you might consider whether your company could fit into more than one category: Like, think about the service you're most well-known for. You might also think about the service that needs new clients the most.
4. Add Numerous High-Quality Photographs
Customers may view your business visually using Google My Business, and everyone enjoys beautiful pictures. 60% of customers claimed that local search results with attractive photographs caught their attention.
We suggest the following pictures, at the very least: your logo, the exterior of your structure, the inside of your room, etc.
5. Integrate customer service procedures with Google My Business reviews.
For small enterprises, reviews are vitally essential. Online reviews are now more frequently consulted by customers than ever before, in addition to being important for local SEO. Think about your buying cycle and include a review request.
This can be communicated via email, a letter, or a reputation management platform like GetFiveStars. Reviews not only influence consumers' purchasing decisions but also provide Google with a variety of indications. 
Hiring a professional will also make this process much simpler for you. You can use the Social Inbox to convert the reviews into customer care tickets that can be distributed to other team members for handling.
If you're hiring a company to manage your Google My Business accounts or regarding topics you don't have enough information about, you may also speak with other team members. Making all of that happen on a single dashboard has a significant impact.
6. Write Narrative Posts
Post is a newly born trend in Google My Business ranking. It is an easier approach to get in touch with your audience and know about their favorite activities, deals, and goods, or even get an insight into the blog post you've published on social networking sights. Include a picture and a link to more details.
Every time you publish new content, such as a new offer or discount or the introduction of a new product, you ought to add a post about it.
7. Announcing Your Events
GMB gives you the same ability to advertise your events as posts do. This seems a tremendous way to keep going with the present events and boost the online presence. Use GMB to increase event visibility in addition to publishing information about your events on your website and social media sites.
8. Your Google My Business posts can be automated.
Lastly, on your company's listing on GMB, anyone can ask a query. Google gives users the option to reply to these queries. So, keep an eye on the queries being asked by the consumers and answer them in the earliest possible way. You don't want to chance to have someone else provide a false response to the question.
Related Posts:
Final Words
Get Benefitted from Google Maps. The final piece of advice is that local businesses have a variety of marketing possibilities. Billboards, regional television advertising, magazine advertisements, etc. could cost thousands of dollars.
Setting up a Google My Business profile and spending 30 minutes a month updating it may be the most affordable (hey, it's free!) and straightforward approach to make a difference out of all the marketing strategies.