A digital marketing blog is one that focuses on digital marketing and educates readers (often business owners or marketers) on how to effectively use various digital marketing channels. 
A typical post will be related to the latest trends in the industry, provide analysis of recent developments and changes in algorithm, or discuss new product developments. Digital marketing blogs in India mostly talk about the Indian digital culture.  
Digital Marketing blogs often offer tips and advice for how companies can improve their online presence, optimize their websites for search engines. Also, they create promotional videos with social media content management systems or offer SEO best practices.
Bloggers and marketers are always looking for new sources to share their content, which is why Indian blogs on digital marketing and SEO seem to be popular. However, some blog contents confuse about the best tool and techniques which makes hard for readers to choose the best one. 
To help you get the best out of your blog reading experience, we've compiled this list of top digital marketing blogs for beginners.
List of 13 Best Digital Marketing Blogs in India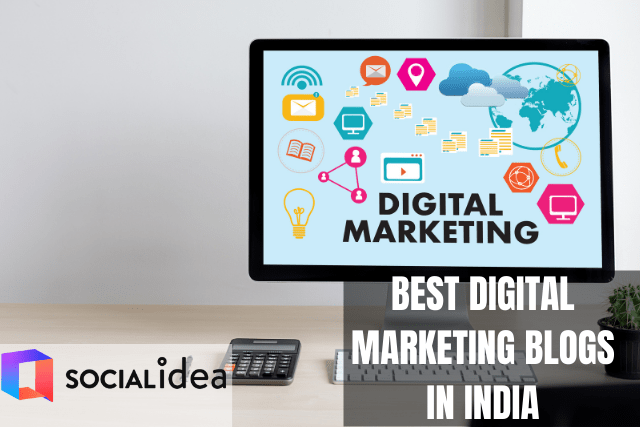 1. Social Idea
Social Idea is a Digital marketing service provider in hyderabad along with a blog that publishes articles on digital marketing and social media. Their content will always be 100% unbiased and factual, so you can feel confident that everything you read is accurate. 
They help brands understand what it means to compete in the 21st century, with all its opportunities and challenges. Social Idea publishes articles on topics such as Facebook Marketing, Instagram Marketing, Twitter Marketing, LinkedIn Marketing, and other Digital Trends. 
Their goal is to provide valuable insights into the ever-changing world of Digital Marketing across every industry imaginable. The content of their blog is in-depth and provides a good idea for beginners.
2. Trak.in
This blog provides information about digital marketing and startups. It features blogs from famous digital marketers such as Ankit Oberoi and Rohan Malhotra (Co-Founder, BlogAdda). However, its tone is quite professional and does not condescend to the readers. 
This blog can help professional digital marketers to learn latest the techniques and concepts evaluated in the industry. 
3. Social Samosa
With over one lakh followers on Facebook alone, this blog is a leading site for social media discussions in India. It focuses on social media and digital marketing trends surrounding all kinds of brands, NGOs, and online influencers in India.
4. SEO India
SEO India covers the latest news and developments in the field of search engine optimization in India. It includes news as well as information about conferences, seminars, e-books, Internet marketing courses, and general trends in the field. Its tone is quite casual and not intimidating, making it one of the most approachable blogs on digital marketing.
5. YourStory
This blog was founded by Rahul Matthan, who also contributes content to other leading sites such as TechCircle (and even Trak.in). It covers business news about startups, entrepreneurship, and online marketing strategy for entrepreneurs and small businesses in India.
This blog focuses on how to best utilize the power of mobile applications in India. It offers advice regarding all aspects of app development and marketing, as well as general tips about digital marketing. It is a good source for app publishers in India, or anyone trying to make money through mobile apps.
6. Inc. India
A leading source for business news about startups and entrepreneurship in India, Inc India, also covers technology and digital marketing trends. It has some of the best stories and information available online.
Thus, along with learning concepts of digital marketing, here you can also find about business stories and can know how they are growing in the industry.  You can learn digital skills along with entrepreneur skills. 
7. TechCircle
Founded by the beginners of Trak, this blog is one of a few which focus on technology-based articles, advice, and opinion pieces on digital marketing in India. It gives direct insights into how technology is changing businesses. 
It also tells about how to grow them through digital marketing strategies and tools such as social media marketing and website design.
8. BlogAdda
Blogadda is among the leading blogging communities in India and has more than a million visitors every month! Founded by Rohan Malhotra and Ankit Oberoi, it brings together bloggers from different parts of the country under one umbrella.
If you have a blog, you should certainly join this platform as it will help you build your online presence by increasing your subscriber base as well as traffic. It also offers you the opportunity to network with bloggers and other industry experts.
9. Smarketers
This blog focuses on blogging tips and tricks, as well as how to create a blog that people will keep visiting every day. It also covers the latest in digital marketing – such as Google Analytics, SEO and social media metrics.
From a digital marketer and blogger beginners to pro, anyone can visit the site and can learn digital marketing as well as earning by blogging. 
10. InFoo
This blog is about how to increase traffic to websites. It focuses on digital marketing topics such as SEO, social media, email marketing, and technology trends. 
It also has a newsletter program where you can subscribe for regular updates in the field of online marketing – along with their best articles each month.
11. BloggersCourt
This blog covers all aspects of blogging and digital marketing in India in an influential way, especially for newer bloggers who are looking for advice or want to learn more about all things related digital marketing.
12. GK Digital Marketing
This blog covers the latest on digital marketing in India. It also has a lot of information about upcoming conferences, seminars, summits and other events related to digital marketing.
This blog will help you to get enroll yourself in the latest digital marketing related event. You can learn concepts from professionals in the industry in a face-to-face session.
13. Digital Inspiration
This blog focuses on social media news and offers advice on how to create effective content. It also helps you make the most out of your online presence through tactics such as blogging, website design, and general social media strategies.
Related Posts:
Conclusion
These are some of the most famous and popular digital marketing blogs in India. Most digital marketers in India read these sources for advice, information and tips about how to design websites, build blogs, increase their website's traffic, and create effective digital marketing strategies. 
If you want to keep up with the latest digital marketing news and developments in this field, make sure you register for these websites' newsletters or follow them on social media.