Happy day! Why did you arrive here? You must have searched for details on search engine optimization (SEO) or a subject immediately related to it. Whether you reached us through Google, Bing, Yahoo, or another search engine, we're glad you're here to learn about SEO.
In this SEO starting tutorial, you'll learn more about what is SEO, how it works, and how to optimize your website for search.
Definition of Search Engine Optimization (SEO)
Let's start by stating the obvious: What is SEO exactly? Search engine optimization, or SEO, can be referred to as the technique of increasing the traffic of the search results of any specific keywords either with the help of the editorial, unpaid, organic, or natural ways in an easy and effective manner.
It is useful in raising the position, online presence, and ranking of the website in the search engine box. However, keep in mind that a website will see an increase in visitors as it moves up the list on the search engines.
Now, once you have a clear idea of what is the full form of SEO and it's easy and simple meaning, let's move to the next part of the content on what is Local SEO, and also the meaning of what is SEO in digital marketing.
Without much delay, let's dive inside the content and enrich yourself with an expert in interpreting the SEO terms.
What is Local SEO?
Any SEO strategy that seeks to draw clients from a certain region, city, or neighborhood must make local search a fundamental part of its strategy.
Simply put, if you want to improve your rankings and visibility in local search results, either in Google search browsers or Map Pack/Local Pack, you should keep an eye on the implementation of local SEO.
Consider the last time you went looking for something you needed in the world. It might have been [men's shoes], [daycare centers], or [coworking spaces]. As a result, Google's search engine always focuses on providing the users with the best results possible. 
Furthermore, those Map Pack results will be highlighted briefly on the first page of the search results when its algorithms determine that your content is local and you ought to look for anything nearby.
In Digital Marketing, what does SEO mean?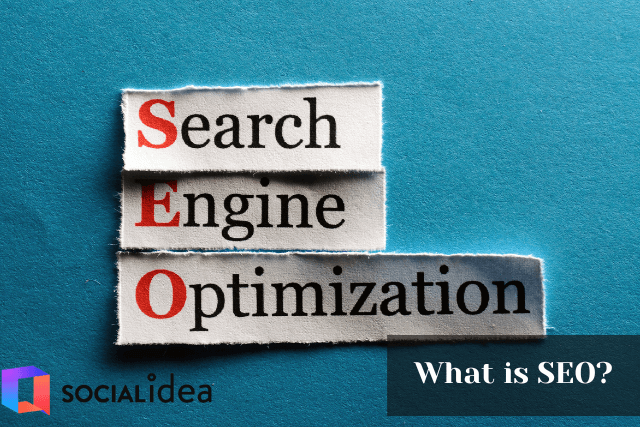 SEO is a strategy used in digital marketing that focuses on making your website visible in search results on search engines like Google. It entails utilizing a variety of strategies to enhance your website so that both users and search engines can better understand it.
How does SEO Work?
First, let's take care of the preliminary matters (and answer your question). Search engine optimization, or SEO can be simply defined as a branch of digital marketing that strieves and aims to rank the website of the user on the Google and other search engines very easily. 
Since search engines use hundreds of factors—Google employs more than 200—to build search results, SEO works by optimizing your site for these elements and getting it crawled and indexed.
You can use a range of tactics, such as keyword research, content production, and page speed optimization, to increase your visibility (or how highly you rank) in search results.
What is the SEO Process for Search Engines?
Search engines produce ranking variables and utilize them to determine the most relevant results for a given search, which results in search engine optimization. The content must first be crawled and indexed by a search engine before it can be determined which is the most relevant.
1. Crawling
Search engines employ crawling to find new and old web pages on the internet. Internal linking and backlinking are essential for SEO optimization since crawlers, also referred to as spiders, employ links to find and refind  the right material and content.
2. Indexing
Indexing is a technique used by search engines to save internet content for subsequent retrieval through search results. Following crawling, indexing happens. The majority of pages will be indexed by a search engine, although spam, blocked, or duplicate pages are rarely among them.
Following crawling and indexing, a search engine evaluates pages using its ranking criteria, which include the following: backlink profile for speed, use of keywords, compatibility with mobile devices, and remember that the ranking variables used by search engines are not disclosed.
Based on the search engine's analysis, your material may appear in organic search results, allowing you to start bringing free, relevant visitors to your website!
Quick Tip: Use an Example to Understand How SEO Works
Having an example is frequently helpful when attempting to comprehend how SEO works. Let's imagine you run Website A and Website B, two separate websites.
Because Website A is not responsive, users may find it challenging to use the site on tablets or smartphones. However, users of tablets, smartphones, and desktop computers will enjoy a better user experience on Website B because it is responsive.
Which website is friendlier to search engines? A website. Of course, search engine functionality is a little bit more nuanced than that. Today, search engines utilize more than 200 distinct parameters to generate search results, which means that a variety of things determine how you appear in search results.
FAQs
1. What does the term "sandbox" mean in SEO?
Ans. The phrase "the sandbox" has a connection to Google. This is the time when all the newly developed web pages are put to the test. It might be regarded as a period of quarantine during which a thorough study is conducted to verify both the legitimacy and positioning of the website by Google.
2. Describe which on-page element carries the most weight for SEO optimization
Ans. To achieve the intended outcomes, on-page SEO must be optimized for a variety of ranking variables. The title tag, however, has proven to be the most successful component for on-page SEO.
This means that if you want to improve the ranking of your website in search results and make it competitive, you must understand how to optimize your title tags.
3. What three elements make up SEO?
Ans. The following three things make up SEO: SEO Technical. SEO on-page (or content SEO) Outbound SEO (or links).
4. What is SEO's on-page difficulty?
Ans. This measures how well-optimized the top 10 sites are for the search term. This value will be high when the majority of results have their content optimized; in such circumstances, link metrics (or brand value) will govern.
Bottom Line
You are aware of how to do SEO, and what is SEO; use it to your advantage today!
However, it is also seen that the process of optimizing the website is not something impossible to do so. It could be difficult for someone who isn't very technically savvy, but you can always ask a web strategist for assistance.
The SEO company Social Idea has expertise in  improving client websites to increase their appeal to search engines. We are more than happy to assist you, whether you are completely new to SEO or wish to advance your optimization.
To learn more about how we can enhance your website with a personalized SEO plan, contact a Social Idea SEO professional right away. We look forward to hearing from you!