While many businesses have internal digital marketing teams, a correspondingly large number also outsource their work to specialized digital marketing firms.
If working for an in-house team doesn't appeal to you, there are several best marketing companies to choose from, from long-standing industry leaders to cutting-edge start-ups that are changing the face of conventional marketing.
In this article, we examine the top 10 digital marketing companies in the world operating today. We'll include some that you've undoubtedly heard of and some that you might not. We'll summarize each so you can see what to expect.
10 Top Marketing Companies in World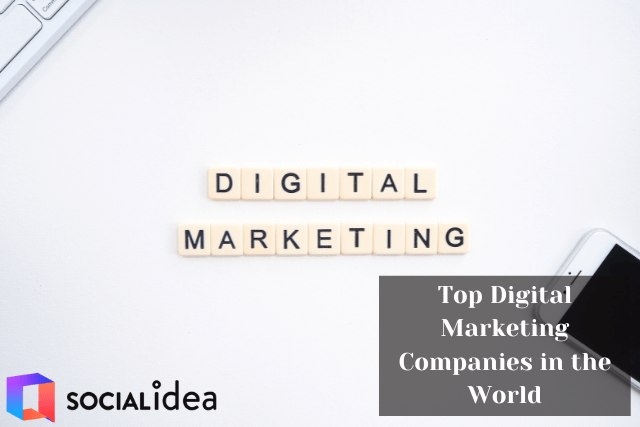 In this blog, we have mentioned the best global digital marketing agencies operating today. So, come quickly and get into detail with each of them one by one.
1. Social Idea
In Hyderabad, India, Social Idea is considered to be the best digital marketing agency. To enable its team members to come up with original ideas, Social Idea aims to uncover their full potential.
There are a number of extremely skilled copywriters, content producers, designers, marketing specialists, and technological experts on staff. As it investigates the realm of creativity, it works daily to learn ever-more-interesting things.
2. Absolute Digital Media
Absolute Digital Media, based out in London, is a multi-award-winning, full-service digital marketing company that runs campaigns with a focus on results all over the world. According to G2 Stack, it uses ten software and service items, including HTML5, jQuery, and Google Analytics.
As of right now, the website is actively using 29 technologies, according to BuiltWith. SPF, LetsEncrypt, and Mobile Non-Scalable Content are a few of these.
BlueHat Marketing
Canada's top digital marketing agency is BlueHat Marketing. By connecting with your audience and growing your business, you increase your online presence. Since 2005, it has been a leader in digital marketing, assisting companies in expanding their online presence.
It employs the most up-to-date methods and tools and adjusts its plans to meet the particular requirements of each client. Its proficiency in both paid and organic digital marketing yields long-term benefits, maximizing your impact per dollar spent while always keeping the customer at the forefront of attention.
4. Digital Nomads HQ
On the stunning Sunshine Coast of Queensland, Australia, there is a full-service digital marketing company called Digital Nomads HQ. It is a Sunshine Coast-based digital marketing firm that has a solid track record and numerous top rankings in industries with fierce competition.
It is, in essence, a local agency with a global heart that collaborates with a wide variety of companies, ranging from well-known national e-commerce companies to smaller grassroots enterprises.
5. Social SEO
According to Inc. 5000, SocialSEO has been ranked among America's fastest-growing businesses for the past four years. It serves as your one-stop shop for video production, email marketing, social media, SEO, and SEM.
All of its approximately 100 workers are located in the US. It prioritizes its customers and holds the view that "we cannot be successful until you are." You can have faith in their agency. Additionally, it is endorsed by nationally renowned Dave Ramsey and is a Google Premier Partner.
6. Digital Squad
A well-known digital marketing firm with headquarters in Singapore s called Digital Squad. Digital Squad provides full-service digital marketing solutions. It has a carefully selected team of experts in each area of digital marketing, is well-regarded throughout APAC, and is the recipient of numerous marketing awards.
IPPFA was ranked as Singapore's top financial advisor on Google, and global dairy giant Fonterra saw a 30% increase in organic traffic growth within four months. Squirrel Mortgages saw a 500% increase in organic traffic value within twelve months.
7. Shock Media Studio
Shock Media Studio, a digital agency based in Malaysia, assists in creating beautiful websites that act as the foundation for the expansion of your company. They also carry out cutting-edge online strategies using their own top-secret proprietary methodologies that consistently produce results.
Additionally, it uses the best techniques to produce results that have never been seen before because it is passionate about producing awesomeness.
8. Gohan Strategy
Gohan Strategy is a strategic brand consultancy with offices in the Philippines that focuses on branding, brand positioning, and consulting. The typical creative agency is not Gohan. It ensures that your solutions are solid, efficient, and elegant in their execution, and it starts every job with an open mind.
9. Firefly
In 2014, Firefly, situated in New Zealand, was created as a reaction to a problematic industry and a lack of digital solutions that aided firms in growing.
Anthony Baxter, who has a passion for business, set out to create a growth-focused firm that was channel-agnostic, didn't favor any platforms or methods, and instead provided businesses with the optimal strategy and channel mix to help them reach their objectives.
10. Digital Gravity
In Dubai, Digital Gravity is a seasoned digital transformation business with a forward-thinking outlook. Without silos or handoffs, it provide scalable online and mobile solutions along with digital marketing services under one roof.
Leading industry experts and cutting-edge technology are present at Digital Gravity to ensure that your company and brands succeed online.
Final Words
I've provided a list of the top marketing companies in world starting from India and spreading over the US, New Zealand, Canada, etc. I hope I have addressed your query about which company is best for digital marketing agencies in the world.
You can pick any of the top marketing companies in world listed above if you want to take your business online or look for ways to help it expand online. Look over the information supplied and choose the option that best satisfies your company's requirements.